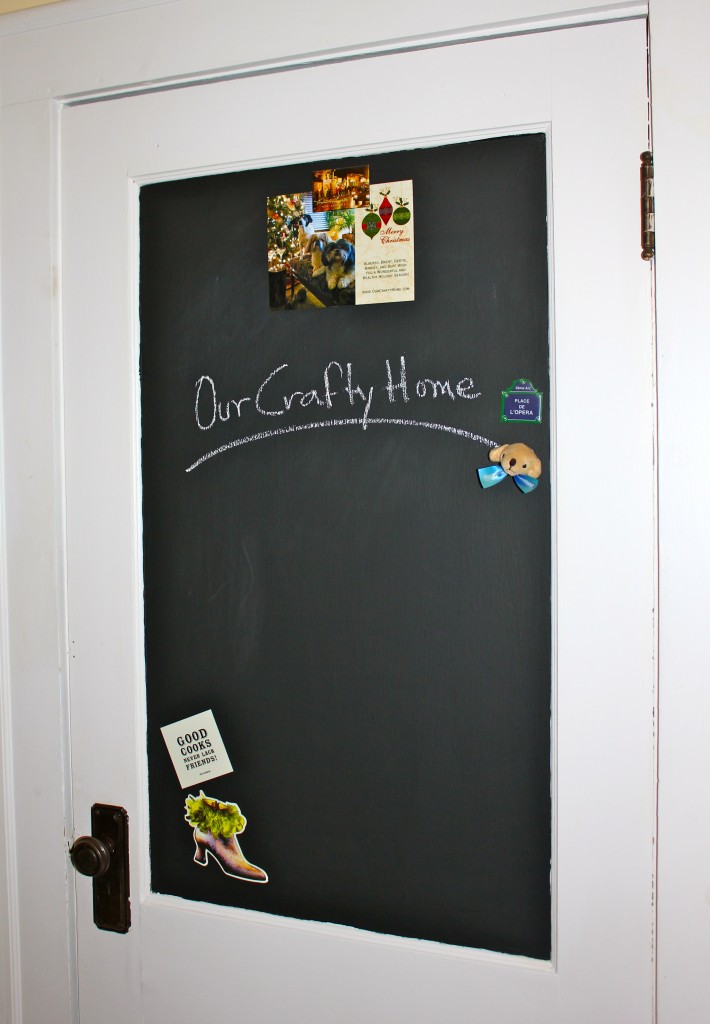 Like many families, our fridge has become the main pin board of the house. We keep family pictures, greeting cards, business cards, calendars, reminder notes, and tons of other random items on it. It's been great to have everything in a central place because it's so easily accessible. However, it's also very messy and cluttered. So finally last weekend we decided to organize all that stuff into a new area…a door adjacent to the kitchen. We primed the door with magnetic paint (to still pin and not damage the wood) and then painted it over with chalkboard so that we could write our notes right on the door instead of having scraps of paper everywhere. It was a great idea, and so simple!
Here's what we used to transform the door:
Chalkboard paint
Magnetic paint
This is what we needed to put it together:
Let's create a Magnetic Chalkboard Door!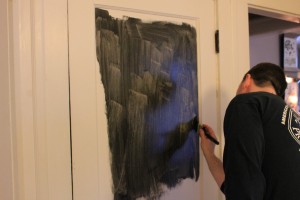 We started by painting the top door panel with the magnetic primer. I only put down a couple of sheets of newspaper under the door, and I set the paint on another sheet of newspaper on the table. I'm generally a neat person, so this shouldn't be a problem…right? I don't generally use painting tape because I find that the paint goes under the tape anyway, so you'll still have to do touch ups. If you use a very steady hand, you can make a sharp line in the right place.
The fun is about to start…
Primer is usually dry to the touch after 30 minutes but Alberto didn't believe it. To prove him wrong, I placed my hand, palm down, on the door. But when I pulled up my hand to show him, it was covered in wet charcoal gray primer, and the door had a very nice hand print of my hand. A hand print of a child as part of a craft project is adorable; the hand print of an over-confident adult is just plain embarrassing. (Maybe I should be more patient in the future…)
I covered the hand print with primer, but at this point I'm getting a little anxious because I need to do three coats and it's getting late. We didn't start this project until late afternoon on Sunday, so at this rate it was about to take me all evening to finish it. Well if a hairdryer can dry your hair, why can't it dry paint?  And luckily we have one for the dogs! I got out the hair dryer, and started drying the door. It worked! The door dried in about 10 minutes.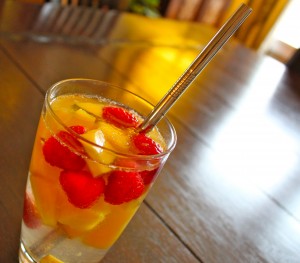 I was so elated that I told Alberto to start on the cocktail break. It was time to celebrate. As I started the second coat, Alberto came up with a new sangria made with Peruvian Pisco. It was delicious. A perfect libation to have while waiting around for paint to dry! Here is the recipe: Peruvian Pisco Sangria
While most people don't know it, I do have a couple of faults, but only a couple. Sometimes I get impatient and expect immediate results. Unfortunately in this situation, it means that I'm trying to rush through a project so that we can sit down to watch a movie or old reruns of Charmed.
What happens when you become impatient with a project? You get sloppy. Remember that I didn't put down a lot of newspaper to start? As I'm putting the third coat on the door, I look down to find drips on the door, drips on the floor and drips on the table. I quickly run to the sink to get a damp paper towel while trying to hide my folly from Alberto. (He'd never let me  hear the end of it.) I clean up the mess as best as I could, but luckily we also have leftover white paint for doing touch ups. I guess I should be using tape after all…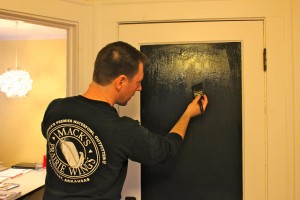 After the three coats of primer were dry, I'm more careful with the chalkboard paint and I finish the door with two coats.  I get the white paint to do the touch ups, and everything looks amazing. It just needs to dry.
The new magnetic pin board really does look great! We realize that it's not an original idea, but it's a very clever use of an empty space. We're just very glad that we have a new and organized central area for all our notes and photos. Try it!