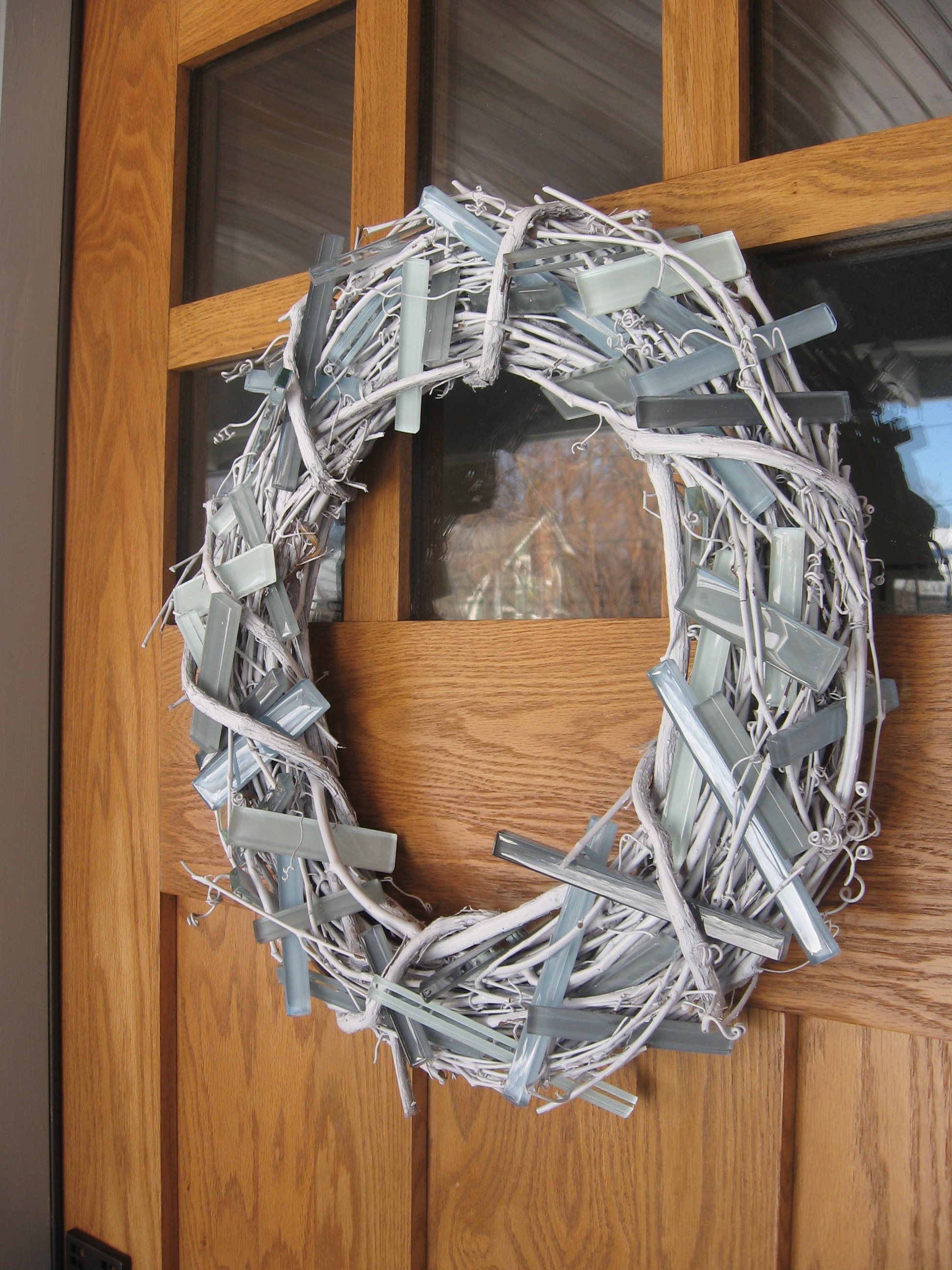 Maplewood has been getting pummeled with snowstorms this year, and all we see out the window is snow and ice.  I remember a time where I thought it was pretty, but no more…and it's only January!  
So before the last snowstorm (last Friday), Alberto and I had stopped at the local Goodwill to see what we could find. We ran across a very kitchy wreath that someone had made (it even had a big red lobster on the front!)
We didn't know what we'd do with it, but for $2, we had to get it. However, it didn't take long…after the latest snowstorm, we decided to make our front door look just like our front lawn, white and icy.  We painted the wreath white and added the glass tiles that we had leftover from this past Christmas.  It came out pretty well, we think…different, icy, and welcoming!
Here's what we used to make the wreath:
This is what we used to put it together:
White spray paint
Glue gun
Wire cutters
Let's make an icicle wreath!
Using the wire cutters, we cut the wires holding the lobster to the wreath.  (Obviously you won't need to do this step if you get a twig wreath from your local craft store.)  We set the lobster aside because Alberto thought we might do something fun with it this summer.  (Already dreaming of summer!)
Spray paint the wreath white.  You'll need to do several coats to cover the wood.  You'll also need to use a lot of paint to get into all of the little spaces between the twigs.
Turn over the wreath and spray paint the back.  I know, no one will see it but it does makes a difference!  You can reach places from the back that you weren't able to get to from the front.
Set aside and let dry completely.
Adding the tiles:
Remove the tiles from the backing.
Take a tile, and squeeze it between the twigs.
Continue with all of the tiles or until the wreath is full.  You should do this at all different angles — and don't forget the sides!
Cocktail Break!
A couple of weeks ago, Alberto decided to do the Master Cleanse.  I'm not going into it (because it's ridiculous) but it involves a lot of water, lemon juice, maple syrup and cayenne pepper.   Well, Alberto's friend Erica must have thought the same because she recommended to him that we try a drink called the Retox cocktail. It's actually REALLY good….and I like to call it my Remaster Cleanse!  Of course Alberto embellished (with Scotch), but either way, it's delicious!!!
Let's finish the wreath!
Taking the glue gun, put a bead of glue on two areas of each tile.  Try to put the glue in places that it won't be seen.
Continue to glue each of the tiles to the wreath.  You don't want one of them falling and breaking outside your front door.
Hang this on your front door, and you can enjoy the ice and snow just like we do.  Now back to my Remaster Cleanse!  Somehow, Winter doesn't look quite so bleak anymore!